A few words from Lorenzo Marmo
Could you introduce yourself briefly? Tell us a few things about your background, studies, and general interests.
I consider myself as a bicultural Italian: Born and raised in Florence, but with a Southern Italian attitude inherited by my relatives. This biculturalism made me develop a natural curiosity towards new cultures and perspectives that resulted in the choice of studying Development Economics in my undergraduate and, later in the postgraduate, Agriculture and Economic Development motivated by the desire of improving the well-being of vulnerable communities. My interest in exploring ways of sustainably developing rural contexts can be considered as the link between my previous studies on this new exciting adventure looking at the potential impacts of CWS in rural and peripheral areas.
How was your moving to your new home? How are things going for you in your new place?
Moving to Athens after spending the last two years in a small town in the Dutch countryside was definitely a radical change for my way of life. This chaotic, buzzing city full of new faces and crowded bars, rich in art and street food, has made it very easy for me to immediately feel at home. The more I get to know new places and realities, the more the desire to immerse myself in the Athenian lifestyle grows. Moreover, I feel very lucky working with easy-going, inspiring individuals, part of the project management team, as well as in sharing this experience with the other 3 ESRs – Alexandra, Colm and Vera – who are my full-fledged Athenian family.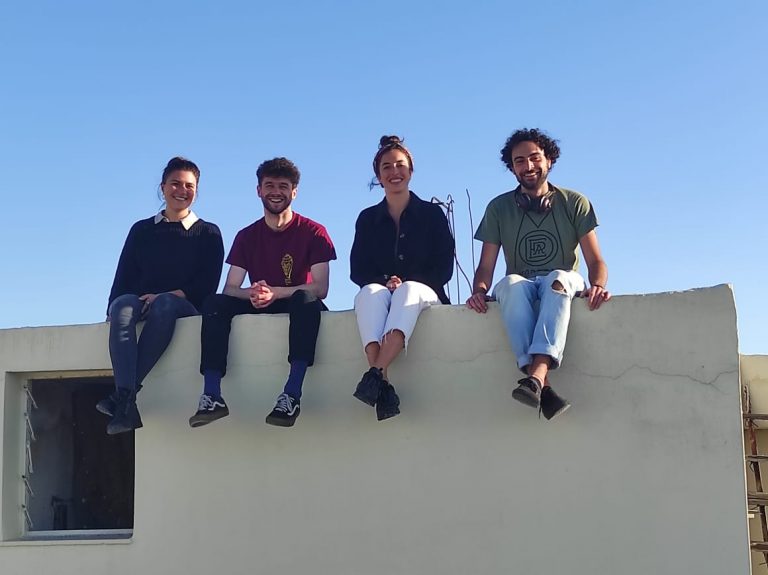 You are preparing for your Work Package meeting, how is your work going?
The preparation for the Work Package meeting is going well. Every day while conducting my literature review, I come across new concepts and perspectives on the topic that help me shape and outline the research. Along with my individual work, I'm also benefiting a lot from the meetings with my supervisors. They provide me with helpful insights and new materials to examine. Moreover, due to their different backgrounds and roles within the project, they offer me a very diverse and thorough perspective on both academic and practical aspects of the co-working phenomenon, which I think will be extremely beneficial to analyse the policy dimension of CWS in rural and peripheral areas.
Could you share with us some key insights/ "aha moments" from your work so far?
When approaching my topic in the first weeks I felt disoriented by the many potential elements of CWS I could include in my research. A very helpful moment was the very first meeting with my supervisors, during which I start thinking at the practical value of my work, and how it might affect different stakeholders (policy-makers, CWS managers, co-working associations and coworkers, etc.). Having the real-life potential implications of my research in mind has been helping me to convert theoretical thoughts into practice.
What do you expect from the WP meeting?
I am looking forward to seeing how the other researchers are approaching their specific topics. I expect to get new helpful insights not just for my personal research, but especially to get a broader overview on the concepts related to CWS. Compared to our first meetings during the introductory week, all of us had the time to read and get to know the state-of-the-art in the field. Probably everybody will feel more at ease with the topic, and so will have for sure something interesting to say and share with the others.